EWON works to strengthen consumer protections on a number of fronts. We identify consumer issues through our complaint referrals and investigations and outreach activities; we influence policy development through our submissions and advice to regulators and government; and we encourage the adoption of best industry practice in complaints management in our work with providers.
Access to external dispute resolution
Providing access to free, fair and independent dispute resolution for energy and water consumers across NSW is our key objective. Since EWON's inception in 1998, NSW energy customers have had access to EWON's external dispute resolution scheme which provided consumer protection over and above that offered by general consumer law.
However, the changing face of the energy and water sectors mean that some consumers do not, or in the future will not, receive the same access to our service. This has been a key focus for us since 2015 and throughout 2017/2018, targeted towards the growing number of consumers who live in homes with embedded energy and / or water networks.
Each exempt entity has a supply arrangement with an energy network provider which gives them one metered connection point to the building's internal private network. Residents are separately metered and billed for their energy usage by the owner of the private network and are restricted when it comes to choosing another retailer, as the wiring and metering infrastructure may not easily support choice.
NSW legislation was initially enacted to protect the interests of permanent residents of residential parks which had embedded networks. Over the years, embedded networks expanded into retirement villages and apartment buildings. Resolving these complaints was very challenging and time consuming as the energy provider / retailer held an exemption from being members of EWON. Where we could not resolve the complaint through negotiation, the Ombudsman was not able to make a decision which was binding on the exempt entity.
This inequality in consumer protection for energy customers needed to be addressed. This was equally recognised by each of the Energy Ombudsman offices in Victoria, South Australia and Queensland, the Australian Energy Regulator (AER) and Victoria's energy regulator, the Essential Services Commission.
During 2017/2018, we continued the work we started in 2015 to ensure equitable consumer protections were extended to exempt entity customers. We completed a number of submissions and public reports and contributed to news items outlining the issues.
We worked very closely with our Australian & New Zealand Energy and Water Ombudsman Network (ANZEWON) colleagues from Victoria, South Australia and Queensland, both strategically and operationally, sharing ideas about the practicalities of expanding our jurisdictions in order to develop a level of consistency across our offices.
This work culminated in March 2018 when the AER released their revised Network Service Provider Registration Exemption Guideline and Retail Exempt Selling Guideline, requiring exempt networks and retailers servicing residential customers to become members of jurisdictional Ombudsman offices, including EWON. The revised guidelines also provide additional consumer protections relating to obligations to supply energy, customer reconnection, provision of payment plans, response to outages and inclusion of relevant information on bills.
No 'one size fits all' approach
Unlike authorised energy retailers and network companies and fully licensed water providers, embedded network providers quite often are very different types of businesses – for many of them, provision or sale of energy or water is not their core business.
So, we are very mindful that our approach to these new types of members is not 'one size fits all'.
Review and amendment of our membership, governance and funding structures were all in play. This included amendment of our Constitution. In February 2018 EWON engaged KPMG to assist with this work, which included extensive consultation with a diverse range of stakeholders, including current members, consumer representatives, exempt entities and small water providers. The outcomes of the consultation informed the changes to our Constitution and development of a new funding model.
At an Extraordinary General Meeting held on 7 June 2018, EWON members strongly expressed their ongoing support for EWON and overwhelmingly voted in support of the constitutional changes. For information about these changes, see page 15.
Systemic issues
The EWON Charter requires that we use the real time insights from our complaints data to identify systemic issues and, where appropriate, investigate them.
We broadly define a systemic issue as a policy, practice or process of a company or companies that has the potential to negatively impact a number of to complaints and disputes. A systemic issue may also emerge from a regulatory issue that causes confusion, conflicting interpretations and/or unforeseen consequences, or an issue that is outside the control of providers or the industry generally, but one which EWON can play a role in resolving. The following themes emerged from our systemic issue investigations in 2017/2018.
Customers experiencing financial hardship
This year we responded to two potential systemic issues arising from the approach to disconnections and access to hardship programs taken by two smaller (or second tier) energy retailers.
In one case, we dealt with multiple complaints where the retailer required large upfront payments towards an energy debt before considering reconnecting their customers or offering them a payment plan. The other systemic issue arose from our receipt of several complaints where it was apparent that the retailer was strongly encouraging customers who were experiencing financial hardship and had reached out for affordability assistance, to transfer to another retailer. In each case, we provided feedback on our concerns about these practices to the retailer and information about what we had identified to the regulators.
Delay in setting up customer accounts
EWON identified a number of complaints from customers moving into newly constructed residential buildings about delays by a particular retailer in closing accounts opened by the property developer, and establishing accounts in the new owners' names.
We provided feedback to the retailer about this issue and, after significant discussion, it agreed to review its processes to identify and implement initiatives to address the delays.
Energy rebates
We identified an increasing trend in complaints relating to rebate errors from a particular retailer and provided written and verbal feedback about the problem. The retailer responded by reviewing its processes for managing customer rebates and implemented a number of improvements, including improved staff training.
In a related matter, EWON wrote to the NSW Government in October 2017 recommending that the late fee protections given to customers receiving the Low Income Household Rebate be expanded to those receiving the new natural and bottled gas rebate. The Ombudsman also raised this issue with the Legislative Council Select Committee on Electricity Supply, Demand and Prices in NSW.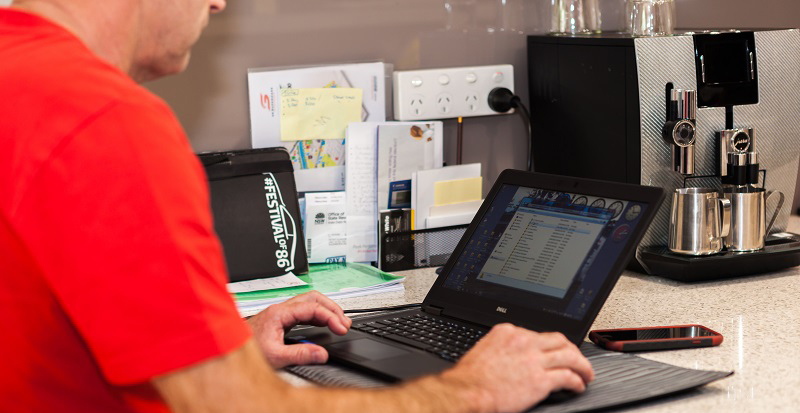 Poor complaint handling and customer service by retailers
Our refer to higher level (RHL) process helps large numbers of energy customers resolve their dispute quickly and directly with their retailer's dispute resolution or complaints team. We monitor the quality of our service and the success of these referrals through a quarterly survey of RHL customers and by tracking how many customers return to us for independent complaint investigation due to dissatisfaction with their provider's response.
In 2017/2018, we identified a systemic failure on the part of two retailers to respond to our RHL process and contact the customer within the agreed three business day timeframe. EWON quickly engaged with these retailers to ensure that they resourced their complaints team appropriately and provided training to underpin compliance with this process.
Digital meter installation and solar inverter impacts
In January 2018, we introduced a number of new case issues to help us monitor complaints about digital meter installations following the introduction of new metering rules on 1 December 2017. These rules saw the responsibility for digital meter installation move from energy distributors to energy retailers.
We identified, among other issues, a pattern of inverter failure related to the installation of a digital meter by a retailer's meter provider. We also provided regulators with complaint numbers and case studies to inform their oversight of the digital meter rollout program.
Digital meter rollout and associated issues
Changes to the National Electricity Rules (NER) and the National Electricity Retail Rules (NERR) on 1 December 2017 required all new and replacement meters installed in NSW be digital with remote communication capacity. The changes form part of the Australian Energy Market Commission's (AEMC) Power of Choice review. The new rules introduce competition in metering services through the creation of a new role — a Metering Coordinator — that is now responsible for providing all metering services to small energy customers. Retailers are required to appoint a Metering Coordinator for their retail customers.
Retailers and their appointed meter providers began installing digital meters in NSW in response to the closure of the Solar Bonus Scheme on 31 December 2016. EWON initially experienced a steady climb in complaints about digital meters between July 2016 and May 2017. The key issues driving these complaints were installation delays and the failure of retailers to install a meter. After a decline in the number of digital meter complaints between June and December 2017, they again increased, with the two most significant complaint issues again being installation delays and retailer failure to install a meter.
Many customers affected by installation delays are those who need metering upgrades after purchasing a solar generation system or new appliances such as air conditioners. Complaints about delays with new electricity connections are also increasing; again a service now coordinated by retailers and not delivered within the same time frame previously provided by electricity distributors.
Digital meter cases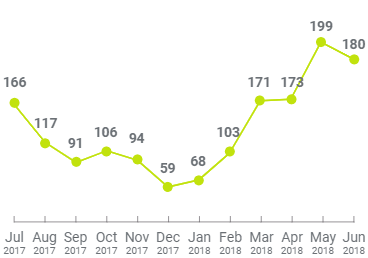 Affordability and financial hardship
Energy affordability, evidenced in complaints about high energy bills, payment difficulties, debt collection, credit default listings and disconnections, continued to feature in many of our complaints in 2017/2018. Energy affordability was also the focus of a number of important reviews into the retail energy sector during the period, including the Australian Competition and Consumer Commission's (ACCC) Retail Electricity Pricing Inquiry and the NSW Legislative Council's Select Committee on Electricity Supply, Demand and Prices in New South Wales.
EWON provided input to these reviews, drawing on data from the assistance we extend to energy customers who come to see us, especially those who experience financial vulnerability in the short or medium term, or lifelong. In our submissions we especially identified energy affordability for rural and remote customers as a critical issue.
Consumers in many areas of NSW face extreme temperatures in summer and winter and often live in poorly built or maintained housing. This often leads to severe energy debt. These consumers also pay more for petrol and locally sourced groceries, therefore have a higher cost of living. They experience increased access barriers to financial and social support programs. Too often they can also be susceptible to marketing practices by a range of phone or door to door salespeople, which place them in an even more vulnerable financial position. As evidenced in our complaints, this includes signing up to energy contracts that in reality do not deliver cheaper energy, and are not supported by accessible hardship/affordability programs.
Our complaints and outreach work shows that the level, accessibility and quality of affordability assistance provided to customers experiencing financial hardship varies significantly across retailers. We raised our concerns about this inconsistency via our submission to the ACCC Retail Electricity Pricing Inquiry and at the NSW Legislative Council's Select Committee Hearing.
We emphasised that consumers could make better and informed decisions when switching retailers if a rating scheme for hardship programs was introduced and retailers were required to include hardship program criteria as part of the information available to customers considering energy offers.
In keeping with this, we voiced support for the National Energy Retail Amendment that seeks to strengthen protections for customers in hardship by providing the Australian Energy Regulator (AER) with the power to publish an enforceable hardship guideline for retailers. Through our community engagement work we speak to customers who often are not positioned to engage with their retailer or EWON via telephone or online. Our Bring Your Bills days enable us to engage with Aboriginal and Torres Strait Islander communities, culturally and linguistically diverse consumers, and customers facing financial vulnerability in metropolitan, regional and remote areas of NSW. In 2017/2018, over two thirds of the 598 complaints we received at Bring Your Bills days involved affordability and financial hardship. Many of these customers were not receiving eligible rebates or concessions.
Effective engagement with hardship customers is one of the greatest challenges faced by energy retailers and the industry as a whole. Too often, lack of engagement is placed on the customer.
In our March 2018 Quarterly Activity Report, we included a number of case studies that illustrate how language barriers prevent some customers from receiving an adequate level of support from their retailer. We have seen where, in close-knit communities, it takes only one poor customer experience to discourage other community members from engaging with their retailer. This drove us to initiate a major change in our outreach work by having retailer staff join us on community outreach. As a result, over the last 12 months, we have seen the situation reversed, with communities gaining confidence to reach out to their providers. Our report on page 61 articulates the benefits which are gained when energy retailer staff bring their affordability programs into communities.
New technologies
In December 2017, EWON provided input to the NSW Government's discussion paper, Protecting consumers in a changing energy world. In summary, we made the following comments and recommendations in response to the issues raised; the driving principle being that all residential and small business energy consumers should have the same level of consumer protections available to them, including access to free and independent alternative dispute resolution.
Therefore:
A principles-based approach should be adopted when considering whether alternative energy supply models should be subject to additional consumer protections over and above those provided by Australian Consumer Law.
The NSW Government should support the Australian Energy Market Commission's (AEMC) proposed changes to the regulatory approach to embedded networks.
The NSW Government and Council of Australian Governments (COAG) Energy Council should consider broadening the AEMC's proposed changes which will be applicable to new and developing models of energy supply, including stand-alone microgrids.
Performance requirements and obligations for licenced distributors are shared between the AER and local jurisdictions and equivalent requirements should apply to both exempt networks and microgrids.
The provision in the AER's Exempt Selling Guideline which links the maximum price a customer can be charged to the local area retailer's standing offer, has become less effective as standing offer prices have increased over time. This pricing protection needs to be reviewed, especially for consumers who do not have access to market offers.