In an unprecedented year of natural disasters followed by a global pandemic, EWON's responsiveness and resilience ensured our high quality service to energy and water consumers continued without interruption.
COVID-19 response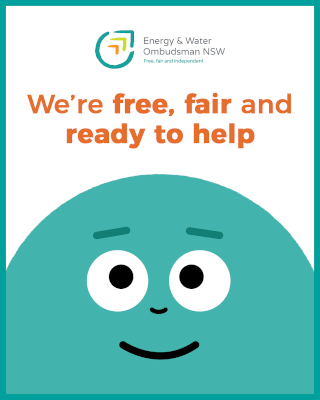 When NSW went into COVID-19 lockdown, we responded by launching a major digital awareness campaign targeting seniors, Aboriginal and Torres Strait Islander and Culturally and Linguistically Diverse (CALD) consumers and casual workers. Using Facebook and Instagram we encouraged resilience in consumers by letting them know additional support was available from their energy retailer. The campaign, featuring our new EWON mascot Ombuddy (pictured), ran on social media for six weeks during May and June, reaching an audience of more than 985,000 consumers.
The campaign successfully raised awareness of our service, and helped us stay in touch with consumers during a period when face-to-face community outreach events were impossible. To assist Aboriginal communities, often at greater risk of experiencing billing and affordability problems, we ran an Aboriginal and Torres Strait Islander-focused community radio campaign to complement our digital campaign.
Voiced by Sean Choolburra, Indigenous comedian and EWON Ambassador, the campaign used humour to encourage Indigenous listeners to access EWON's services if they required extra support during COVID-19. The ads were broadcast NSW-wide reaching five million listeners.
Responsive outreach
Vulnerable communities needed EWON's support even more during COVID-19, when face-to-face outreach events were no longer possible. We responded quickly by adapting our Outreach program to a virtual model, and continued to deliver our signature Bring Your Bills Days online and by phone. Services provided at the virtual events include help with outstanding fines, rebates and Energy Accounts Payments Assistant vouchers. Our Community Outreach Team also developed an online presentation which was promoted across NSW community organisations engaging with low income and vulnerable consumers.
Responsive to members
EWON's membership has more than doubled since 2018/2019 after welcoming 6 new authorised energy retailers and 109 embedded network members, bringing our total membership to 201 this financial year. We continued to respond to our members' needs by launching EWONLink, our online, one-stop-shop for information about customer complaints. The confidential portal allows members to create customised reports drawn directly from our complaints management data – within 24 hours of the information being recorded by our Investigations Team. We also continued supporting our new embedded network members via quarterly Operational Working Group meetings – face-to-face in 2019 and virtually in 2020.
Resilient staff
The beginning of the COVID-19 pandemic in March illustrated our ability to rapidly respond to unexpected circumstances, as well as step up our agility in a dynamic environment. With a fit-for-future IT transformation and cloud migration, combined with support from our IT Team, EWON staff transitioned smoothly from the CBD office to working from our homes across Sydney. Our Investigations Team continued delivering quality customer service, our Policy Team made influencial submissions to government and regulators, and our HR Team kept us feeling connected and well supported.