Our Ombudsman and staff
Janine Young, Ombudsman
The Ombudsman manages EWON's day-to-day operations and works in consultation with the Board to develop systems and processes to ensure EWON provides independent and fair dispute resolution services as effectively and efficiently as possible.
Janine Young was appointed Ombudsman in November 2014. Janine has extensive experience providing independent dispute resolution services, both as the Victorian Public Transport Ombudsman and as the Deputy Ombudsman at the Energy and Water Ombudsman (Victoria).
Janine was appointed Chair of the Australian and New Zealand Ombudsman Association (ANZOA) in November 2019, after serving on the Executive for several years. Janine is also a former Board Member and Chair of the La Trobe University MBA Advisory Board. In 2012/2013, Janine was on the Standards Australia QR015 Committee responsible for reviewing the Guidelines for Complaint Handling in Organisations (AS ISO 10002). Janine also sat on the Board of the Society of Consumer Affairs Professionals, the peak body for consumer affairs professionals.
Janine spent most of her early career in the automotive industry, including three years as a change management consultant specialising in process and service improvement. Janine holds undergraduate qualifications in Marketing and Management, an MBA and is a Graduate of the Australian Institute of Company Directors.
Helen Ford, Deputy Ombudsman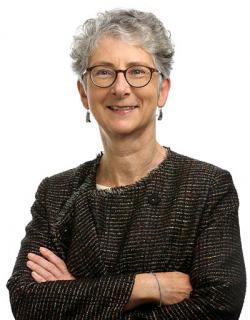 In 2018/19 we appointed Helen Ford as Deputy Ombudsman, to provide strategic support to the Ombudsman and undertake high level stakeholder engagement.
Before joining EWON, Helen worked for over a decade at the NSW Ombudsman's office dealing with complaints about NSW government agencies and investigating systemic issues. She gained practical policy development experience working in the NSW Maritime Division of Roads and Maritime Services to improve operational procedures for Boating Safety Officers.
Helen is admitted as a lawyer in England and NSW, and has worked in Australia, the UK and the United States. She has worked in university administration, been a complaints advocate for people with disabilities and worked for the American Civil Liberties Union in the east coast state of New Jersey.
Our Teams
Investigations
The Investigations Team handles customer complaints against providers. This includes receiving, assessing, investigating and reviewing complaints to ensure that EWON achieves its key objective of fair, reasonable and independent complaint handling.
Governance, Awareness & Policy (GAP)
The Governance, Awareness & Policy Team oversees our governance, quality, member relation, communication, community outreach and policy functions by:
coordinating our governance processes, including supporting the EWON Board and maintaining member relations through regular contact and reporting, and by holding forums to discuss issues underpinning complaints
building awareness of our services and educating consumers and their advocates about energy and water issues through strategic communication activities and an extensive community outreach program
driving continuous improvement of case management process by reviewing cases and implementing quality assurance processes
identifying complaint trends and systemic issues arising from case work, providing advice and analytical support, conducting research, and preparing public submissions and comments on regulatory changes and industry developments.
Finance & Corporate Services
The Finance & Corporate Services Team manages our infrastructure and service delivery, including overseeing our finances, information and IT resources, human resources, general administration, and internal and external reporting functions.