FAQs and support
Please see our page on how we are supporting customers impacted by COVID-19 here.
How to keep energy bills down during COVID-19
Working and studying from home means energy use is likely to increase. Here are some tips to help keep your energy use and your bills down.
Turn off 'power-hungry' appliances. This includes old garage / outdoor fridges and plasma TVs. Switch appliances you're not using off at the wall – this includes your kettle and microwave.
Use natural light. During the day, open blinds and curtains rather than switching lights on. Use LED or fibre-optic bulbs which consume up to 75% less energy than incandescent ones and last up to 10 times longer.
Limit heating and cooling. Air conditioners and heaters can be big energy users. Try to avoid switching them on, especially during the day while autumn temperatures are with us. When cooler weather arrives, use door snakes to stop the cold getting in/heat getting out, rug up and choose comfort heat settings.
Consider your usage times. Do you use the most electricity in the day or at night? Those using most of their power during the morning or early afternoon might benefit from a time of use tariff. This means you'll be charged less money during these off-peak periods. Have a chat with your energy retailer about the best plan for your circumstances.
Choose energy efficient appliances. Appliances account for roughly 30% of your energy bill. If you're ordering a new appliance online, shop for products with an energy star rating of three of more to maximise efficiency.
Consider switching providers. Your choice of energy provider and the contract you sign can make a big difference to how much you pay. Make sure you compare retailers in your area for the best deal. Sign a contract with a variable rate that suits your lifestyle and power-usage patterns. Visit energymadeeasy.gov.au or to compare offers.
Working from home energy tips
Energy.gov.au has some great tips on how to save energy when using computers, office equipment and mobile phones at home.

What does $1 of electricity get you?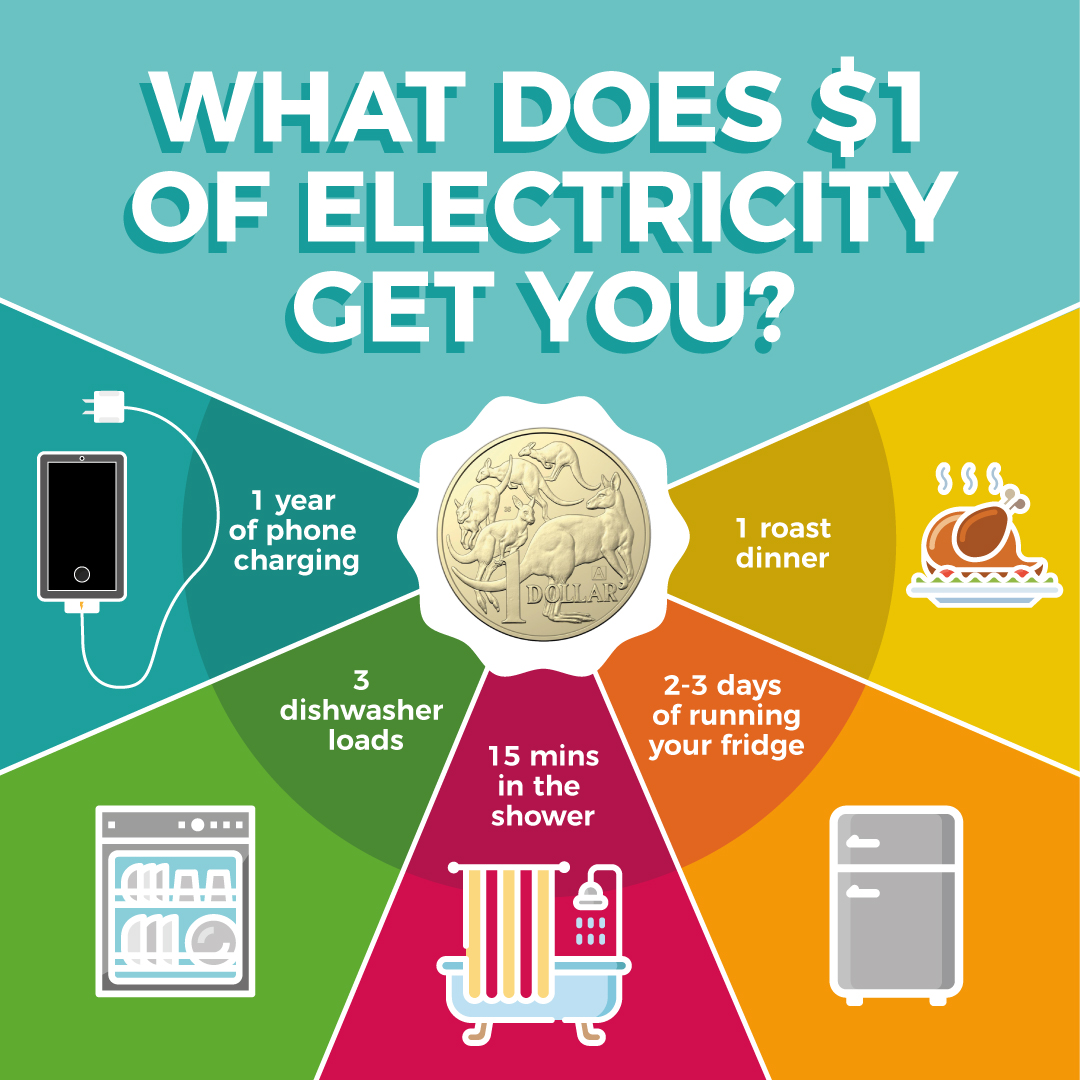 Reference: Energy Networks Australia